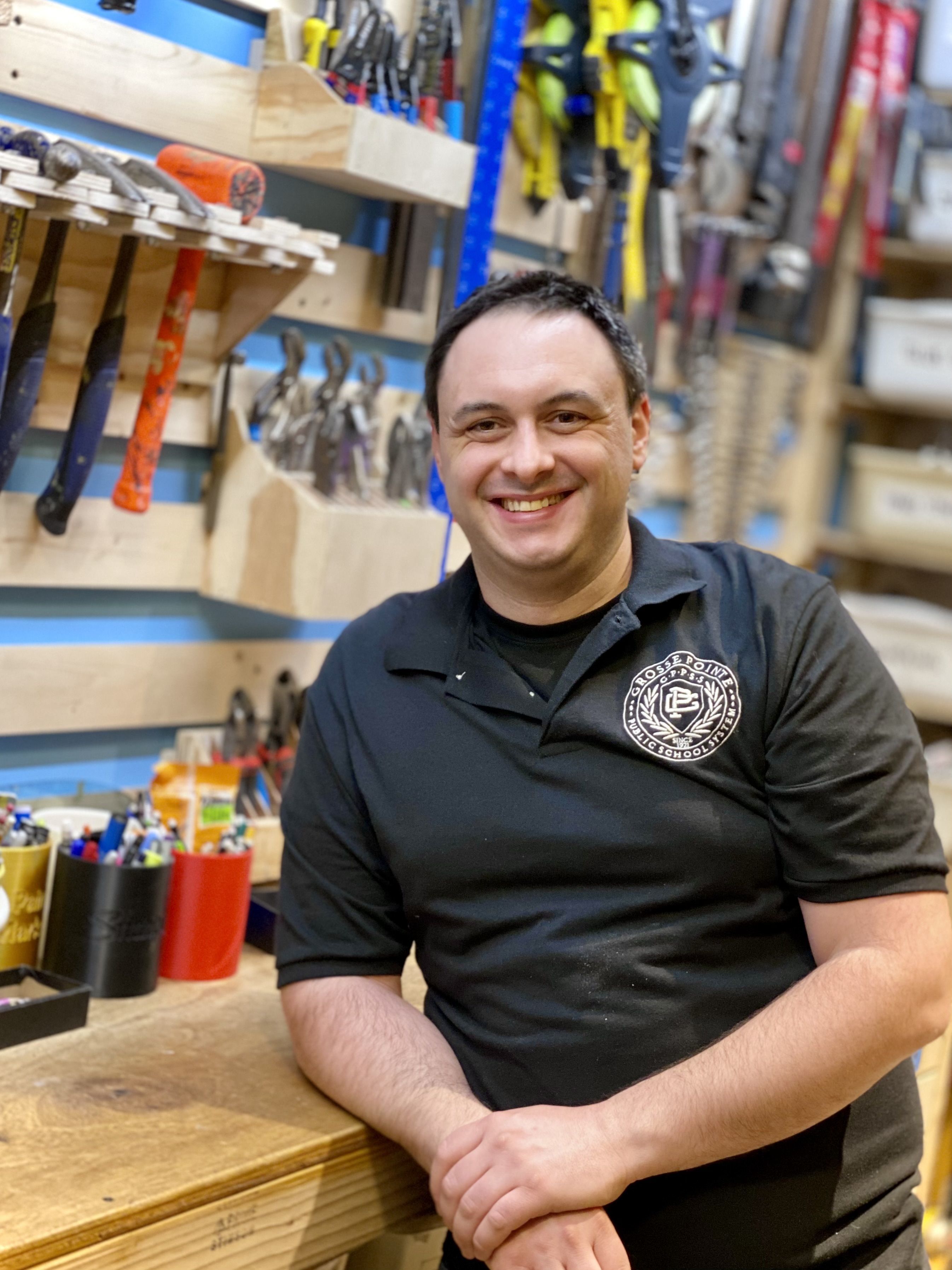 After attending Our Lady Star of the Sea for grade school, PJ Veltri started at Grosse Pointe North as a freshman in 2003. He remembers being at the freshman orientation in the summer, sitting in the PAC (Performing Arts Center) with his friends when whoever was talking mentioned the PAC staff. Still, it was PJ's first time in a new school, so instead of jumping into performing arts, he decided to run cross country and focus on his studies. 
That Christmas, PJ recalls two of his best friends, Eric Jorgenson and Jeff Beattie, talking about the cool thing that they had done the previous day – they got to leave school for the afternoon to work on stage for a Christmas concert at Parcells! That same day PJ went down to the PAC and was whisked away into the theatre. 
PJ's friends began to show up less and less as time went on, but he was hooked. At the end of his Sophomore year, the Assistant Technical Director announced that he was leaving for college to pursue a career in stage lighting and had decided that PJ would be the best person to fill his shoes. By the time graduation rolled around. PJ had lit over 100 events and had been the lighting designer for 4 high school musicals, 4 high school plays, 4-6 middle school productions, and countless vocal shows.
Throughout his time at GPPSS, PJ learned so much while working at the PAC. And because he considered himself to be both analytical and mechanically inclined, he decided to attend Michigan State as an Engineering student. At State, he took theatre classes to keep that part of his life alive, but he was all-in on his engineering studies. 
That dedication to Engineering didn't last long, though. Soon he would be introduced to Kirk Domer, the head of the Theatre Design Faculty. 
When PJ and Kirk met for the first time, Kirk asked him, "I've got two different people telling me that I need to meet you; what do you want from me?"
PJ admitted at that point that he was ready to dip his toes back into theatre. PJ was a full-time theatre student working toward his BFA by the end of that year. In the summer of 2008, PJ took his first "professional" gig working as the head electrician on a show at Williamston Theatre before coming back and working at the PAC.
By the time he graduated from Michigan State, PJ had worked on every show produced from the moment he had dived back into the theatre.
PJ tells us that every theatre artist needs to make a decision upon graduation from college. What are you going to do, where are you going to go? And there are really only 4 answers - New York, Los Angeles, Chicago, or Grad School. Instead, PJ committed to spending the summer of 2011 back in Grosse Pointe working at the PAC, the place where it all started.
PJ continued working in Grosse Pointe until Dan Vicary retired. During this time, he was the Assistant Technical Director in charge of Stage Lighting and Rigging. He still was able to take jobs professionally outside of the GPPSS, and he worked extensively with IATSE Local 274 in East Lansing. He even worked as an electrician at a small music festival outside Midland.
Once Dan retired, PJ became the Assistant Technical Director and was the head of all Technical Activities under Art Pasha. But he was also still working as many other places as he could to gain as much experience as possible. Most notably, he recalls working on Mitch Albom's "Ernie and Hockey: The Musical" as the video technician for their annual tours.
When Art left the district, PJ was promoted into the position of Technical Director, doing his best to provide the program with the same experiences that he was so lucky to have in his high school years.
The GPPSS Difference
PJ tells us that he was lucky enough to work with a highly talented group of teachers and other staff members in the performing arts across the district. He shares, "Music and arts education offers so much more than what they are explicitly teaching in the classroom. I feel extremely lucky to have worked with each of them when I was a student and now as a collaborator to provide these programs to the students within the GPPS."
Without the guidance of Dan Vicary, and the experience of working alongside Steven Drader, Sam Kitchel, and Art Pasha, PJ feels that he would probably be in a very different place right now.
Asked what his advice would be for this year's graduating class would be, PJ offered this: "Simply this: If you love to do something, do that. It doesn't matter what it is; just make sure you get to do that thing in your life. It doesn't have to be your all-day, everyday thing, but your hobbies are what make you who you are."
Want to Nominate Someone to be Profiled?
As part of this year's celebration of 100 years of educational excellence at Grosse Pointe Public Schools, we are partnering with the district to profile 100 alumni from our illustrious first century.  
Are you or someone you know interested in being profiled in a story that will be distributed district-wide across various social media and news platforms?
Start by nominating yourself or someone you know here.