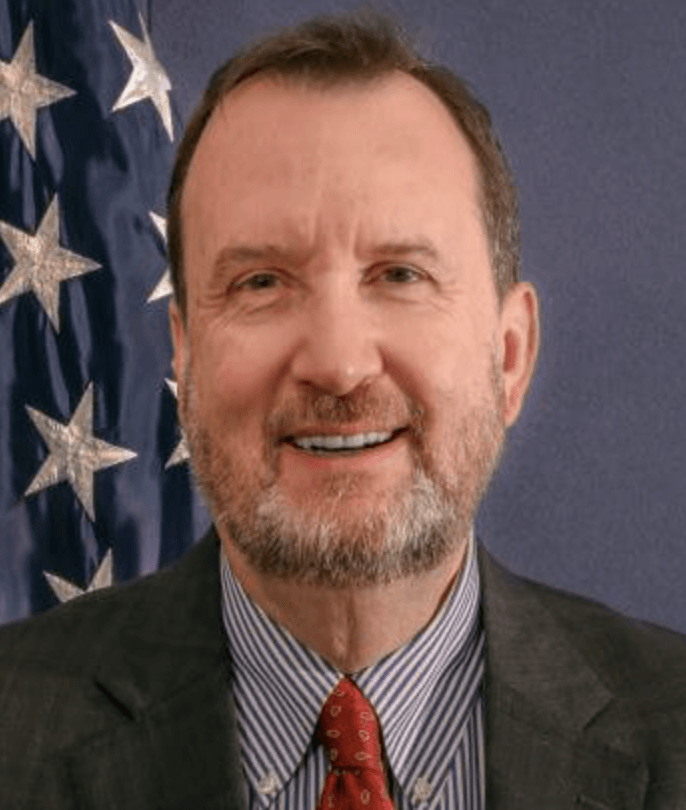 Ambassador Rick Mills is a thirty-three-year member of the U.S. Foreign Service, currently serving as the U.S. Deputy Permanent Representative to the United Nations in New York. 
Before this assignment, Rick had the honor to serve as the U.S. Ambassador to Armenia, the Charge d'Affaires (Acting Ambassador) at the U.S. Mission to Canada, and Deputy Chief of Mission at the U.S. Embassies in Lebanon and Malta. During his career, he also had assignments as varied as Senior Democracy Advisor at U.S. Embassy Baghdad, the Minister Counselor for Political Affairs at U.S. Embassy London, and the Energy Attache at U.S. Embassy Riyadh. At the U.S. State Department in Washington, Rick served terms as an Executive Assistant to Secretary Madeline Albright, as a political officer on the (then) Soviet Desk, and in the Department's Bureau of Legislative Affairs.
Rick's path to the Foreign Service was a bit circuitous. "But, having an international career and public service were always interests and professional goals, even during my high school years in Grosse Pointe," he says.
Attending Grosse Pointe South gave Rick the grounding and educational confidence he needed to decide to attend Georgetown University's School of Foreign Service, where he was inspired by his time in the nation's capital. During this time, Rick became further convinced that a career involving international relations was the right choice. At first, he thought a legal career in which he would engage in international work would be the best fit. So Rick went to law school and afterward, in 1984, joined a Washington, D.C.-based legal firm with offices and clients in sub-Saharan Africa. Rick enjoyed practicing law but told us that the international component of that work left him wanting more.
After some internal debate, Rick took the Foreign Service Exam in 1987 -- convinced he would fail and then know he was born to be a lawyer -- but to his surprise, he passed and, in 1988, left the law to join the U.S. State Department. If it didn't work out, he told himself, he could return to the law as a career. But from day one as a Foreign Service Officer (FSO), Rick knew this was the path he was meant to take.His first tour was at the U.S. Embassy in Paris (1988-90), where he met his "better half", his spouse Leigh, who was also an FSO. From there, the two began a wonderful life -- sometimes frustrating and challenging, but always rewarding and deeply engaging. "Representing the country I love, and the values it may sometimes fail to achieve but constantly struggles to achieve, has been a great life," Rick says.
Rick still is surprised at how much of his worldview,  approach, and preparation for life were shaped by those four years at GPSHS. Many of his GPS friends continue, 45 years later, to inspire him.  
Outside of academics, Rick talks about the "Pointe Players" as pivotal in shaping who he is. He tells us, "The self-confidence that came from being accepted into this group of creative, funny, wickedly talented fellow students meant the world to me. It fueled me -- throughout my life -- to try new things even when not very comfortable about doing so. It also taught me how to navigate and diplomatically manage such a group of people -- a key skill for me in later life!.  I learned in a very basic way how to build a team that could work together on a shared goal:  whether a fall musical, a spring play, or agreeing on how to fundraise for both.   Mr. Bruce Kefgin was the director of Pointe Players during my years as a member, and I will always be grateful for his quiet mentorship and what I learned from him those years."
Thank a Teacher
Rick remembers some of his favorite teachers, including Ms. Carole Rio, fondly. Rick says, "I truly learned how to write -- craft effective texts, edit a draft and make an argument on paper. Many a written cable back to Washington in my career owes its impact to what I learned in Ms. Rio's creative writing class my sophomore year."
He also recalls Dr. Summerville, from whom he learned world history, which triggered his thirst for learning about other places and cultures. Another favorite was Dr. James Kellogg, who taught AP American History and triggered his deep interest in the American story and how he might make a small contribution to it. 
Finally, he remembers Mrs. Alma Fleming, who taught AP English, deepening his love of books. 
"When I look back, I know how fortunate I was to have attended a high school with such a depth of committed, talented teachers and mentors," Rick says. 
Advice for the Class of 2002
When asked what he'd pass on to this year's graduates, Rick says, "Don't underestimate the value of kindness. It is the supreme virtue, and to engage the world with simple kindness will pay you back-- personally, professionally, and in terms of your happiness -- in ways that no other approach to life can do."
Want to Nominate Someone to be Profiled?
As part of this year's celebration of 100 years of educational excellence at Grosse Pointe Public Schools, we are partnering with the district to profile 100 alumni from our illustrious first century.  
Are you or someone you know interested in being profiled in a story that will be distributed district-wide across various social media and news platforms?
Start by nominating yourself or someone you know here.