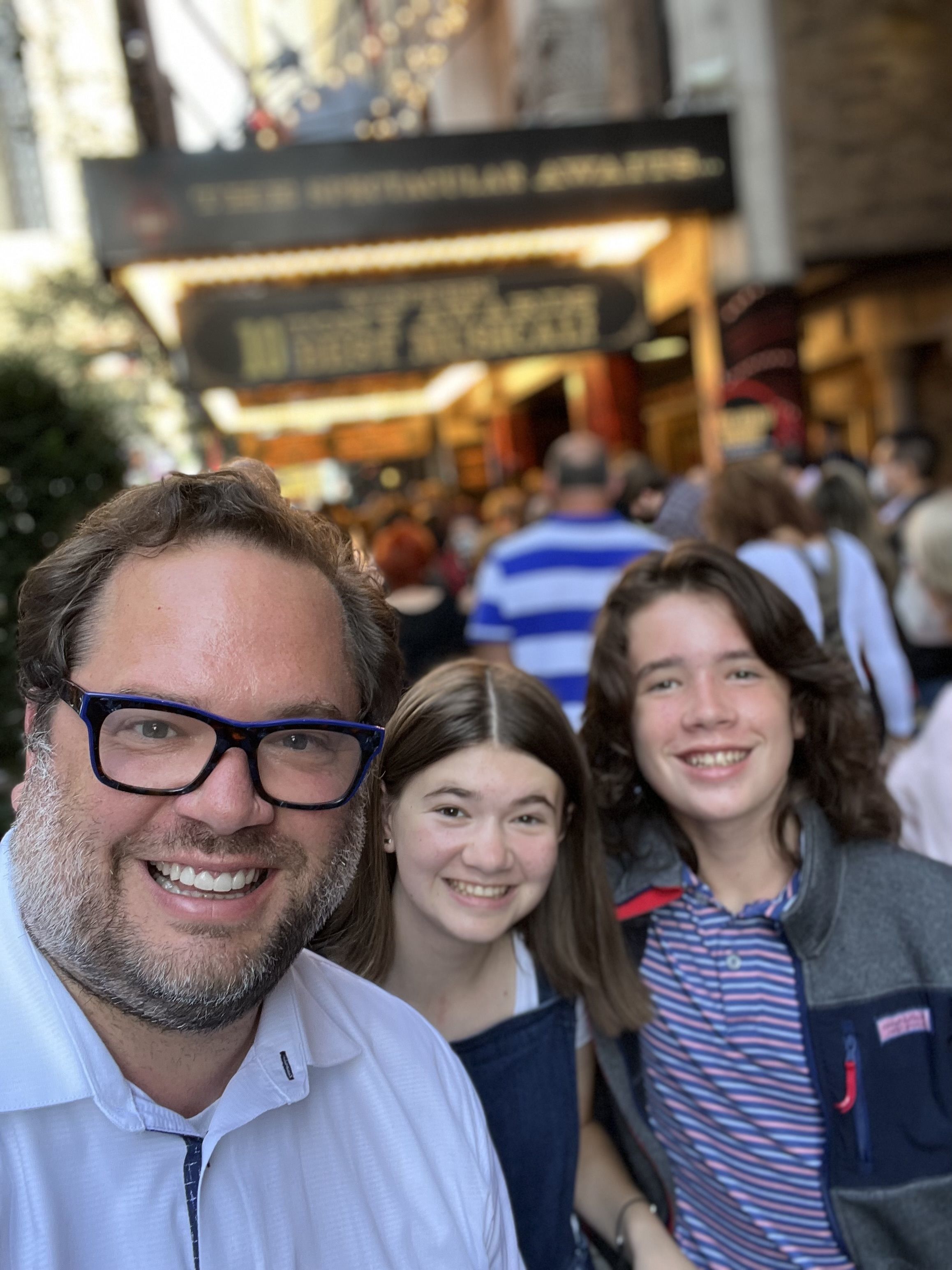 Music brings people together. This is what Robb Bigelow, class of Grosse Pointe North 1995, learned as a young Head Chorister at Christ Church Grosse Pointe, taking piano lessons at the Center for Creative Studies, crashing Christmas parties with "The Bowties", and singing with tons of GP friends in the basement of his parents' home on South Oxford. 
The world of North musicals only cemented this belief for Robb. He truly believes that the "stars" of musicals are important, but so is everyone else---from the people who make and design the sets to the orchestra to the chorus. Just like in life itself, everyone matters.
Robb shares that his roles of "Joseph" in "Joseph in the Amazing Technicolor Dreamcoat" and Archibald in "The Secret Garden" at North are still some of his favorite life experiences. Not surprisingly, Robb loved the spotlight---but, more importantly, he loved the friends and friendships that he made.
While at North, Robb was accepted to Interlochen's All-State Musical Theater Camp. It was at Interlochen where he was recruited by and ultimately fell in love with Vanderbilt University. At Vanderbilt, Robb was proud to be the President of its only all-male a cappella group (The Dodecaphics) and, while at the law school, was Student Body President.
Robb has now lived in Nashville for over 25 years, and he owns a law firm that represents people who have been discriminated against and sexually harassed. The lesson Robb learned through his family and through music---that everyone matters---is a lesson that shaped his career.
But, make no mistake, Robb still loves music. In addition to singing in the West End United Methodist Choir, Robb has used his background in music to help his own kids (Anna, now 17, and Peter, almost 14) to raise money for their schools. He knows that good public schools are vitally important, and so he has volunteered his time with several PTOs. 
Looking back at his own time in school, Robb expresses a deep appreciation for Mr. Ben Walker, the Music Director at GPN who convinced him to dedicate himself to musicals instead of soccer.
At a GPN Choir Reunion a few years ago, Robb was honored to sing a duet with Sandra Joseph, who played Christine in Broadway's Phantom of the Opera. She said he sounded "fantastic", and her kind words meant the world to Robb. He admits that even as a man in his 40s, he was starstruck by the experience.
When asked what advice he would give to this year's graduating class, Robb said "You are currently in a GP School---sit back, know how lucky you are, and take advantage of the opportunity. As Hamilton says, 'Do not throw away your shot'."
Want to Nominate Someone to be Profiled?
As part of this year's celebration of 100 years of educational excellence at Grosse Pointe Public Schools, we are partnering with the district to profile 100 alumni from our illustrious first century.  
Are you or someone you know interested in being profiled in a story that will be distributed district-wide across various social media and news platforms?
Start by nominating yourself or someone you know HERE.