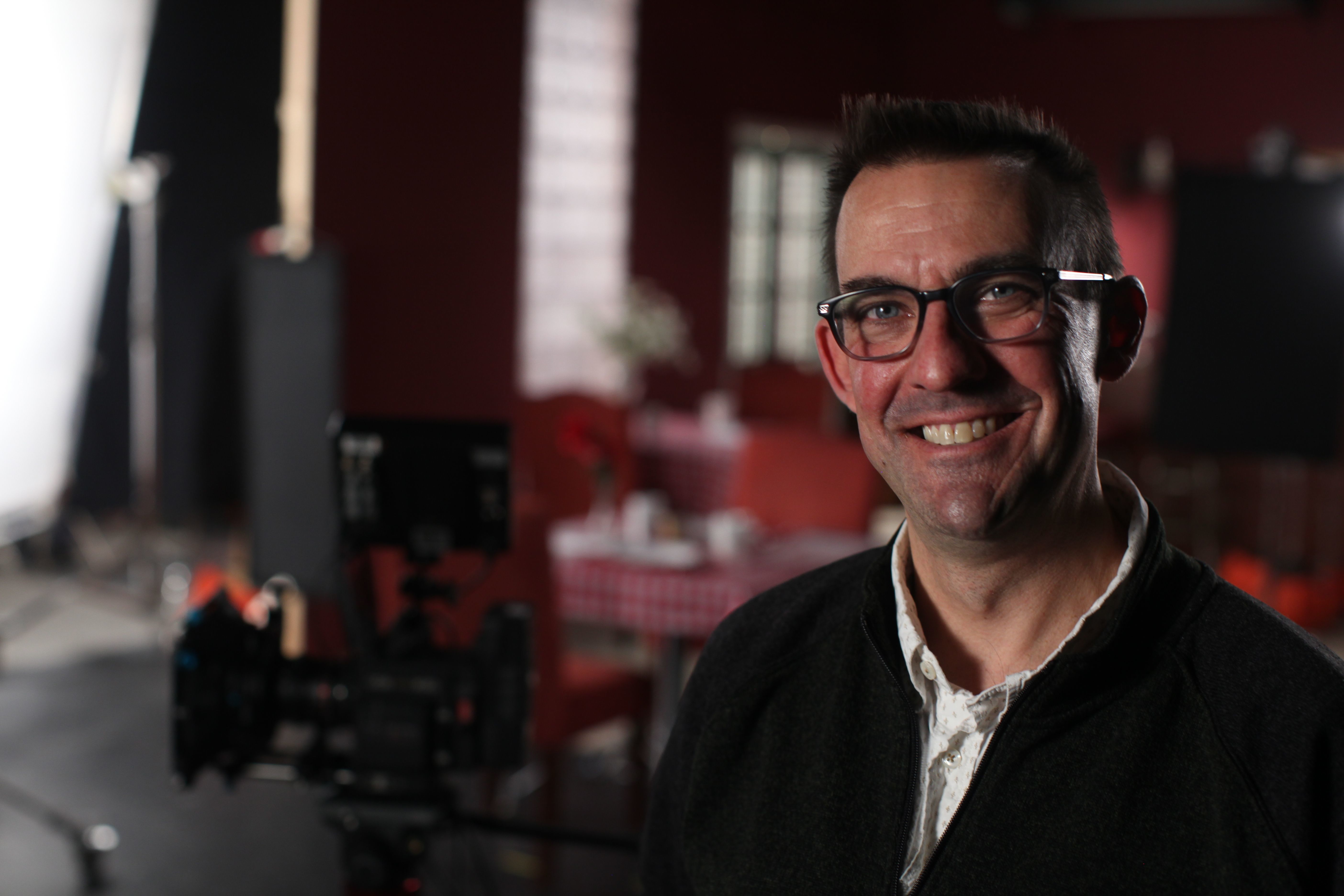 For the Schroeders, a Grosse Pointe education is a family affair. The Schroeder family has lived in the Pointes since at least the 40s, and most family members came up through the public school system. Our latest Alumni of Distinction, Jeremy Schroder, grew up in Grosse Pointe City/Farms and attended Richard and Kerby Elementary Schools, Brownell Middle School, and graduated from South High School in 1990. 
A Passion is Born
As far back as Jeremy can remember, he has always been interested in filmmaking. Throughout his childhood, he made 8mm films and later VHS videos. In 1988, Grosse Pointe South High School started offering the Television Production classes taught by Julie Corbett, and Jeremy enrolled in the first class. 
During his senior year in high school, Jeremy decided to make filmmaking his career and go to Ithaca College, where he studied Film and Photography. When he graduated in 1994, Jeremy recalls randomly moving to New York City. He says it was never his intention to make that move, but several of his friends from film school were going, so Jeremy decided to tag along. From there, Jeremy says he pretty much wandered around New York until he found a job working on a movie– which then kicked off the next 15 years of his life living in the city and working as a motion picture lighting technician.
Jeremy mostly worked on lower-budget film projects, music videos, and TV commercials during the next few years. He says his real break came in the fall of 1996 when he was hired on to the crew of the TV series "Law & Order." Jeremy then spent the next ten years working as the "best boy grip," which is a job in the lighting department on a film crew. 
From 'Law and Order' to 'Enchanted'
In all, Jeremy helped shoot about 250 hour-long episodes of "Law & Order", from season 7 until season 16, when he was offered a department head position on a film called "Griffin & Phoenix." At that point, Jeremy left "Law & Order" and focused on working on feature films. During this period of his career, Jeremy had the unbelievable fortune to work with many talented directors, including Arthur Penn, Kirk Jones, Helen Hunt, Lasse Hallsltröm, and Steven Soderburgh; and amazing actors - his favorites being Sigourney Weaver, Bette Midler, Jimmy Marsden, Amy Adams, Robert DeNiro, and Colin Firth. For Jeremy, the highlight of this time was spending the summer of 2006 working on the Disney film "Enchanted." His position on the crew was the 2nd Unit Key Grip, and he and his crew helped shoot all the special effects, stunts, and animals needed for the film. 
The project was particularly fun because every day, Jeremy would go to work and have conversations that revolved around seemingly far-out issues, such as "today we are shooting Jimmy jumping off a bridge in central park where he promptly gets runs over by a bunch of bike racers" or "how are we going to make Susan Sarandon emerge from a manhole cover in Times Square?" 
Along with "Law & Order," "Enchanted" is the project Jeremy is most proud to have been a part of - especially now that he's a Dad – seeing how much his daughter and her friends enjoy the film gives him a sense of pride that can't easily be described. 
Back to the Pointes
In 2009, after 15 years of hustling for 60-70 hours a week and living in hotels for months at a time, Jeremy decided to hang up his career in NYC, and so he and his family moved back to Grosse Pointe Farms. He and his wife Lindsay were looking for a slightly quieter life with their daughter Eleanor and wanted family around them as she grew up.
Being back in the Metro Detroit area, Jeremy had to reinvent his career. He reconnected with his High School production teacher Julie Corbett who was just gearing up to shoot a documentary and ultimately worked as her cameraman. That project led to Jeremy's current career as a non-fiction cinematographer and the formation of his company Motor City Grip Supply, which provides all the equipment needed for non-fiction production. 
Since 2010 Jeremy has shot numerous documentaries and other small projects. To give back, he became involved with many projects to raise money for schools and other educational settings. He likes to think of it as "using his powers for good."
The GPPSS Difference 
Jeremy credits the television production classes he took at South for starting his career. But it wasn't only the production classes that got him where he is today. 
Throughout his time in the Grosse Pointe Public School System, Jeremy was involved in the music program as a percussionist. He was in every band, and orchestra class offered - especially at South. And although he chose not to pursue music as a career, the time Jeremy spent in the music program has had a lasting effect on his life. He still actively plays several instruments and has been involved with numerous bands and other musical endeavors over the years. The music director at South - Ralph Miller - is one of Jeremy's all-time favorite teachers. He says that Mr. Miller's encouragement of his music pursuits is directly responsible for his ongoing musical development.
Fun Fact
The production classes at South led Jeremy not only to his career but to his best friend and future wife Lindsay, whom he met in those first classes. In fact, there's a picture of the two of them in the media classroom at South to this day! 
And of course, South is also where he met another favorite teacher, great friend, and future colleague Julie Corbett. She had a profound effect on Jeremy's life both as a professional and as a person- the two remained close until she passed away a few years ago.
For This Year's Graduates
When asked what bit of advice he might offer to this year's graduating class, Jeremy had this to say, "Do not underestimate the value of a diverse education and lifestyle. Study everything. Take many different classes and try many different things. My career and how I go about it have been influenced by many different aspects of my education and experiences - not just my film studies. My thought process is influenced by art, music, science, math, English (you have to be able to communicate!), sailing, and even cutting the grass when I was a kid believe it or not!"
Want to Nominate Someone to be Profiled?
As part of this year's celebration of 100 years of educational excellence at Grosse Pointe Public Schools, we are partnering with the district to profile 100 alumni from our illustrious first century.  
Are you or someone you know interested in being profiled in a story that will be distributed district-wide across various social media and news platforms?
Start by nominating yourself or someone you know HERE.