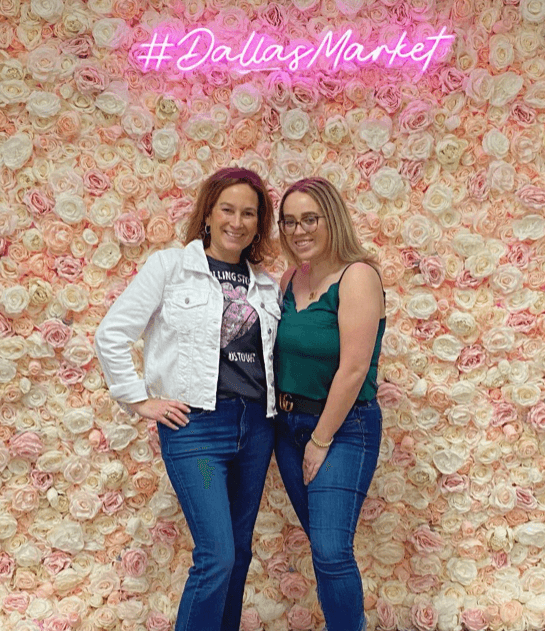 What's better than one dynamic Grosse Pointe Public Schools graduate to profile as one of our 100 alumni of distinction celebrating 100 years of GPPSS?
Two, from the same family! 
Mary (Colombo) Mancus and Madeleine Mancus, the mother-daughter team behind the Village's newest boutique, Glitter & Scotch, are our latest graduates of distinction. 
Meet Mary 
Fashion and shopping have always been Mary's passions. Graduating from Grosse Pointe South High School in the class of 1987, her first job was at Jacobson's in the Village! She went on to earn her Fashion Merchandising degree from Western Michigan University but didn't put it to work immediately after college. Instead, she took a 13-year detour as a preschool teacher here in Grosse Pointe. 
Even though she loved being a teacher, retail was calling her back. That's when she and daughter Maddie decided that there was no time like the present to take the leap and continue the family tradition of being entrepreneurs—and just like that, Glitter & Scotch was born!
Meet Maddie 
Born and raised in Grosse Pointe, Maddie graduated from South in 2016. After high school, she packed up and moved across the country to attend The Fashion Institute of Design and Merchandising (FIDM), where she obtained her degree in Fashion Merchandising & Marketing.
After working in local retail pre- and post-college life, Maddie decided to take the plunge with her mom and open their own store. Their mission was clear: to help diversify the shopping experience in The Village of Grosse Pointe. 
When Maddie started to tell friends and family about opening Glitter & Scotch, no one was super surprised that it was happening—what surprised them was that they were doing it when Maddie was still so young. But Mary and Maddie both know there is no better time than now to be involved in a community that has been so warm and welcoming to them. 
The GPPSS Difference
When asked what impact Grosse Pointe Schools had on them, they agreed that they were taught to be independent and to go after what they wanted in life. Mary and Maddie both look back at their time in Grosse Pointe Public Schools fondly, recalling the many teachers and staff members that made a difference in their lives. 
As for advice to this year's graduating class, Mary had this to say: "We both feel that students should not be afraid to go after what they want. Step outside of the 'GP Box' and pursue whatever your heart tells you to do as far as college path and career choices."
Want to Nominate Someone to Be Profiled?
As part of this year's celebration of 100 years of educational excellence at Grosse Pointe Public Schools, we are partnering with the district to profile 100 alumni from our illustrious first century.
Are you or someone you know interested in being profiled in a story that will be distributed district-wide across various social media and news platforms? 
Start by nominating yourself of someone you know here.