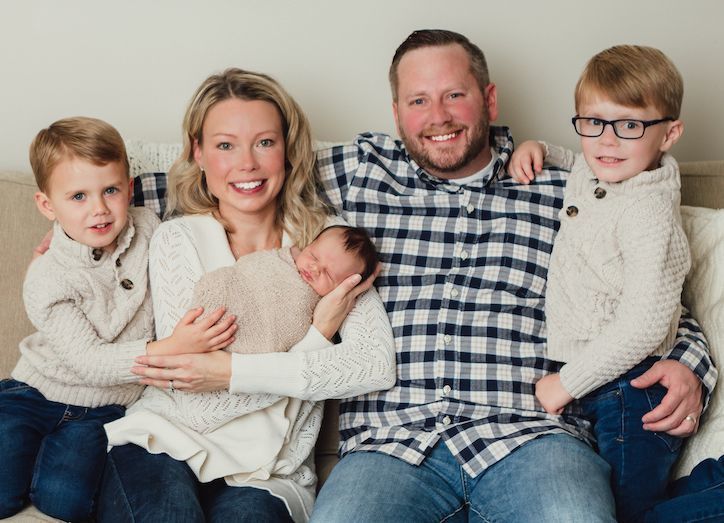 Some heroes wear capes; some wear a nurse's cap and a teacher's hat simultaneously. Claire (Urbiel) Hunter, Grosse Pointe South, class of 2002, does just that. 
After graduating with her nursing degree in 2009, Claire worked as an RN with adults until a position opened up at Children's Hospital of Michigan in Detroit. Children have always been Claire's passion, and in 2010, she accepted a pediatric RN position on a Neurosurgery/Endocrinology/Medical and Surgical unit. There she took care of a population with various complex diagnoses and provided family-centered care to her young patients and their families. 
Claire married her husband in 2012 at the Grosse Pointe War Memorial (they met after applying for the same job!) and had their first son in 2013. Their second son followed in 2015, and third in 2019. During this time, Claire lost her mother after a battle with cancer. Claire says her mother was a true fighter and an inspiration to her nursing career and role as a mother. 
Over the years, Claire has worked on several floors throughout the hospital and found her home in the Neonatal Intensive Care Unit. The Level IV NICU at Children's Hospital of Michigan provides the highest level of neonatal care for the earliest, most high risk, and sickest infants. While being a NICU nurse is challenging and sometimes heartbreaking, Claire says it is also the most rewarding and fulfilling job that she could ask for. Watching some of the tiniest or weakest patients defy numerous obstacles and health issues and see them grow each day as little fighters and eventually go home with their families is something she always hopes to be a part of.
Despite all of her experience, Claire never imagined being a nurse during a pandemic, or having to navigate homeschooling her two school-age children while chasing a toddler and working in the hospital. But with the help of her husband, she says they did it, and that this experience has made her a better mother and nurse.
The GPPSS Impact
Claire believes that each Grosse Pointe public school teacher impacts their students and helps to mold their life experiences. "Just like each nursing experience and patient I encounter helps me to shape my nursing practice and become a more well-rounded nurse," she says. 
Claire's two school-aged children, Ben (8) and Will (6), attend Defer in Grosse Pointe Park. She says that as a family, they are so grateful for the tremendous effort, support, and education from their teachers and school staff throughout transitions between virtual and in-person learning.
As for her own experiences, Claire recalls that Mr. Briske had a talent for teaching US History and its past events while applying his lesson to current events and real-life situations. He allowed his students to think critically and apply themselves, encouraging them to take action to make the world a better place. 
Asked what advice Claire has for this year's graduates, she offers, "You do not need to know what your career is in high school—many students don't, and that is okay.  It can be overwhelming with all of the college applications and essays, and as long as you challenge and apply yourself to do the best that you can, you will figure it out along the way."
Want to Nominate Someone to Be Profiled?
As part of this year's celebration of 100 years of educational excellence at Grosse Pointe Public Schools, we are partnering with the district to profile 100 alumni from our illustrious first century.
Are you or someone you know interested in being profiled in a story that will be distributed district-wide across various social media and news platforms?