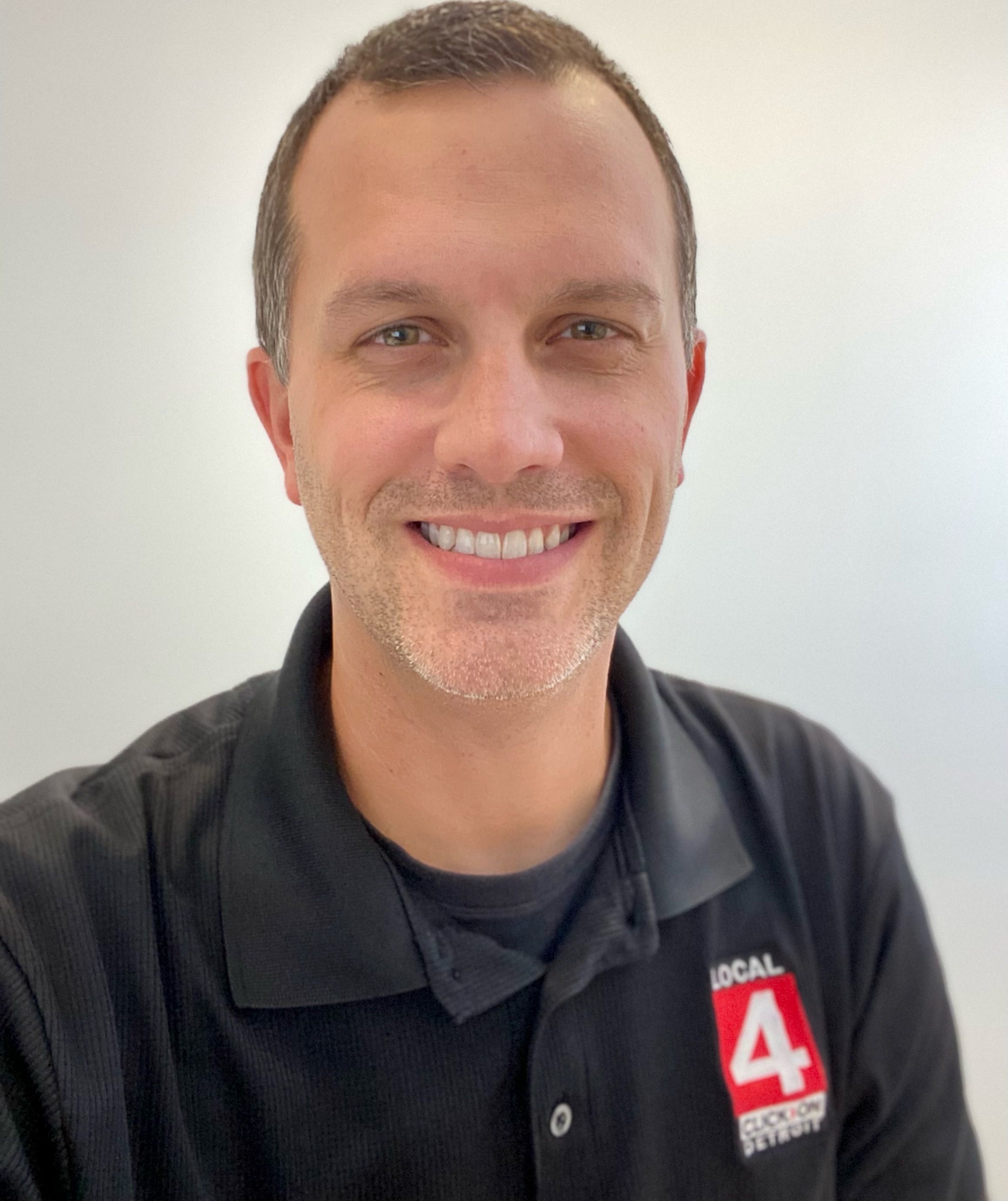 As part of this year's celebration of 100 years of educational excellence at Grosse Pointe Public Schools, we are partnering with the district to profile 100 alumni from our illustrious first century. Are you or someone you know interested in being profiled in a story that will be distributed district-wide across various social media and news platforms? Start by nominating yourself of someone you know here.
You may not see his face everyday, but  Matt Morawski, Grosse Pointe North class of 2001, is the "man behind the curtain" at Local 4 News Today at WDIV-TV in Detroit, working as an Executive Producer. 
Matt discovered his love for TV production in high school at North. He started with one class on the basics of television production, then he went on to take so many more TV production classes that they didn't even have names for the courses!
His "study hall" classes became TV 5, 6, 7, 8, etc. He could have spent his entire day in Brian Stackpoole's TV production classroom. Mr. Stackpoole motivated Matt and gave him the freedom to create some great (and sometimes, by his own admission, awful) projects.
One of Matt's favorite memories was getting to cohost the 30+ hour fundraiser telethon for Grosse Pointe Public Schools under Mr. Stackpoole's and Steve Geresy's leadership. He was also given the incredible opportunity to host his own show called "Matt and Pat's Corner" along with Pat Ballew during his senior year.
GPN's TV production classes helped Matt get in touch with his creative side and put him in a classroom with people he found similar to himself. Not only did Matt make lifelong friends, but he discovered his career path.
After high school, Matt went on to Wayne State University, where he earned his B.A. in journalism. During that time, he interned at WWJ and WDIV. Matt was then offered an Associate Producer opportunity at WDIV, where he wrote for newscasts, assisted in undercover projects, and operated the camera in the helicopter. (What an incredible experience!)
Matt's next move was to Saginaw, Michigan, where he was a news producer for the evening newscasts. He spent two years working for WNEM TV5 in Saginaw before returning to WDIV Local 4 as a weekend morning show producer. Matt spent several years working on climbing the ladder at Local 4 before eventually becoming the Morning Show Executive Producer—a job he's now held for nearly eight years.
Matt considers himself incredibly lucky to be in the position he is in now, and he shares that he's honestly not sure if he'd be here if he hadn't signed up for his first TV production class at Grosse Pointe North.
Outside of work, Matt loves to play guitar and drums. He was even signed to an independent record label with his band Spoonfed when he was just 15 years old! 
When asked what advice he has for this year's graduating class, he had this to say: "Be inclusive. That person you might otherwise ignore could be someone who inspires you to become something great. Give everyone a shot, because we all deserve one."