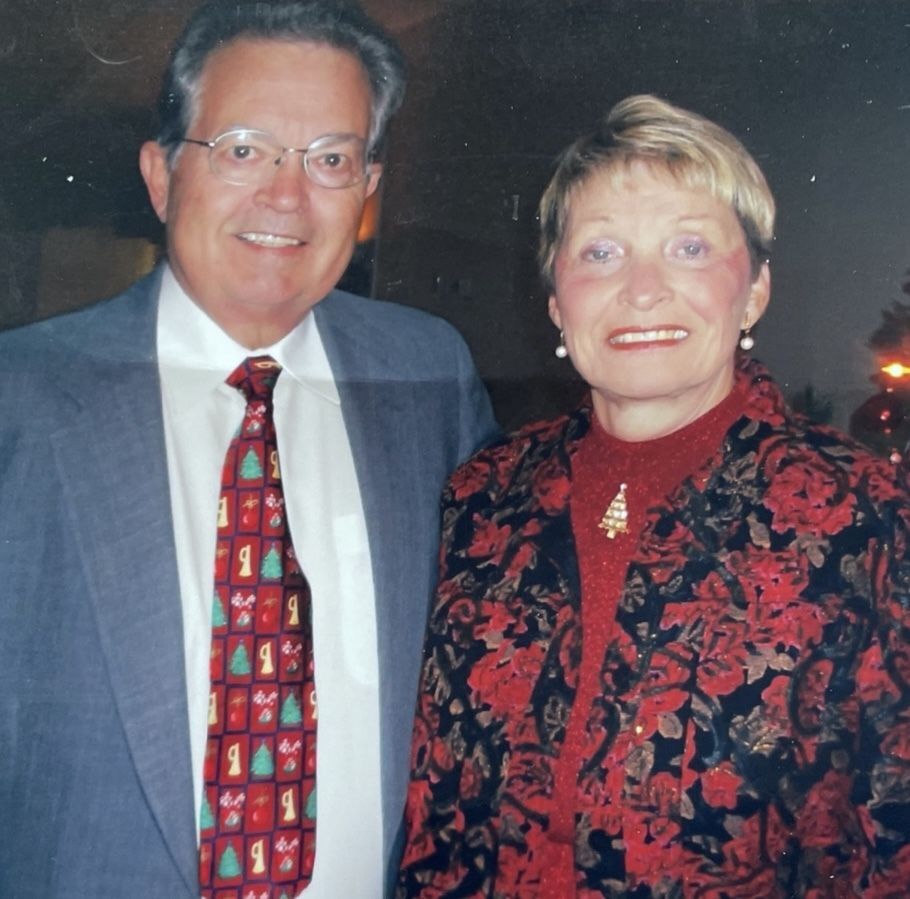 We met on a Sunday afternoon in the summer of 1956.  I lived with my mother and half-sister Dona Selby at 1545 Roslyn Road in Grosse Pointe Woods, Michigan at that time in my life.
I was sitting out on our front porch enjoying the pleasant weather when Sally Goodsmith, who lived across the street from us, came over with a cute friend.  She introduced me to Shirley Totten, her best friend since they went to school together from kindergarten through high school. It was a fate meant to be, as I had never before sat out on our small porch.
Shirley lived three blocks away at 1643 Hollywood Avenue.  I had never noticed her as we didn't have any classes together. While high school girls were of great interest to me and all my friends, I assumed that I didn't interest them at all.  
A few days after we met, Shirl invited me to visit with her one evening while she was babysitting for a neighbor. We enjoyed talking to each other. A few evenings later she invited me again when she was on another babysitting job.  Okay, I was slowly getting the message. 
Occasionally I worked evenings at the Michigan Bell Telephone Company, Valley Office, where I worked as a central office switchman maintaining the equipment.  Shirl would often borrow my car.  She would drive me to work and then go around and pick up her girlfriends and go to Cupid's drive-in restaurant on Harper Avenue near 8 Mile Road. A typical teen hangout in our day.  
They would tease all the boys hanging around looking over the guys for their friends who wanted a boyfriend.  Sometimes they would go drag racing.  My stick Chevy was relatively fast, and they would challenge any carload of guys that came along to a drag race. 
Since the military was actively drafting at that time, I was concerned that I might soon find myself in the army. I decided to join the regular Navy (USN) as the army didn't suit me.  I had been in the Navy Reserve (USNR) for the last 2 years attending meetings one weekend a month.  
After completing USN basic training at the Naval training center Great Lakes, Illinois near Chicago, I was sent to a Naval air squadron, VA-153, at Moffett Field Naval Air Station, near San Francisco, California. 
Meanwhile, Shirl's dad Harold Totten, a long-time sheet metal worker, accepted a six-month temporary assignment with his company supervising the construction of an auto assembly plant in Los Angeles, California.  He took his family with him, and Shirl attended high school there for a semester.  She had a good time going to school there.  It was very different from Grosse Pointe High. 
I would hitchhike the 400 miles down to LA every weekend I had off to visit them. (I was way out of the allowed area for traveling on weekend liberty.  It would have been at least a two-week restriction to the base if I was caught. 
When Harold's job was finished in LA I was visiting them that weekend, so they drove me back to my base in San Francisco on their way home to the Detroit area.  Harold slipped me a $50 bill when we shook hands goodbye. The next weekend I had liberty. I took the $50 and put it down on an engagement ring. I went home on leave after she graduated and gave her the ring. 
Shirley always preferred to have a job.  While she was a senior in high school she worked part time at the J L Hudson department store in the women's shoe department on a commission basis . She didn't make a lot of money but did enjoy the shoe discount. After graduating from GPHS she worked at Detroit Bank and Trust as a clerk in the stock records department.
Meanwhile, I was transferred to the USS Pine Island, a large seaplane tender.  After I joined the ship, we went to the Japanese island of Okinawa, which was our overseas base. 
Sometime later, our ship was in port at Sasebo, Japan when I saw a notice in the ship's newspaper that the Navy was accepting requests for transfer to Japan for overseas shore duty. I submitted a request. In short order the personnel officer received approval of my request and was informed that I was being transferred to Yokosuka Naval Station in Japan.  I called Shirl right away and proposed that we set a date to get married and go to Japan together.
We were married on January 24, 1959.  A few days later we loaded up our car and took off for California. It took about a week to drive from Detroit to San Diego.  As there were no interstate highways then, we drove US Route 66 most of the way. 
In early April we got orders to travel on the USNS General Sultan, along with our car that went with us in the hold of the ship.  It was a large military passenger ship used only to provide travel to overseas locations for military dependents as airlines were not flying to Japan much in those days.  
Our thirteen-day trip to Japan on the ship General Sultan was a pleasant experience.  We wore civilian clothes and had our meals in the large dining room.  We played a lot of cards: bridge, hearts, pinochle, etc.  We gossiped with the other military passengers and took long strolls around the deck in the evenings.  It was a great honeymoon cruise.
When we arrived in Japan the Navy put us up in a hotel outside the Yokosuka base for a few weeks until we could get checked in and arrange for housing.  The base housing had a waiting list, so we moved into a Navy approved Japanese single bedroom rental house with tatami mats for floors in every room but the kitchen that had a wood floor.  The Navy provided us with furniture from their warehouse. It was about a block or so away from the Pacific Ocean and about five miles away from my base in an area known as Kamakura, close to a well-known tourist attraction of a temple with a huge Buddha. 
The bathroom had a large cast iron tub with a wooden floor in it, like a hot tub, which you filled with water and then went outside and built a wood fire under it.  The shower water also was heated by a separate small wood fired furnace.  
We would drive around the countryside on my days off and because Shirl was taking classes to learn conversational Japanese, we had some interesting experiences with the local folks we met.  In Japan they drive on the left side, so driving around was always a challenging situation. 
Shirl hired a maid for a dollar a day.  A Japanese teen-aged girl who wanted to learn English.  Just imagine the stories she told her friends about how the crazy Americans lived. We next received orders transferring us to the Quonset Point, Rhode Island Navy base.  We bought a nice three-bedroom house near the base.  We were stationed there for a little over two years.
When our Navy enlistment was up, the Navy moved our furniture and belongings to the Detroit area. After putting the house up for sale, we traveled home to Detroit.  We stayed with Shirl's parents Harold and Lil until I could find a job. 
A good friend of Shirl's had an uncle who oversaw the new IBM computer systems that Ford Motor Company had recently purchased.  We typed up a resume and gave him a copy.  It turned out to be a very nice job as a computer programmer with a good salary.  Ford arranged with IBM for me to attend their schools where they trained their technicians. We bought a 3-bedroom colonial at 2168 Hampton Road in Grosse Pointe Woods.
A few years after we had settled in and the kids were in school, Shirl decided it was time to go to work.  She took a position at a Manufactures National Bank of Detroit branch as a teller at the drive-up teller window.  She soon found that she disliked the job as among other things he was a jerk and she sometimes had problems balancing her cash drawer when her shift was over. 
She resigned and took a job at a doctor's office.  It was at an office of three urologists' doctors.  She thrived at this job as it was right up her alley and supported her desire to become an RN. 
She then moved on to the next major event in her life by enrolling in the Wayne County Community College School of Nursing. After graduating in 1982, she began working as a Registered Nurse at various hospitals.  By then we had moved to 275 McKinley in Grosse Pointe Farms, up the street from the Punch and Judy movie theatre.
Her first job was at Detroit Receiving Hospital as an RN in the pediatrics department.  I was working at Ford and later took an offer from Chrysler to supervise their network systems center.
Her next job, after we moved to Orlando, Florida, was as an RN at ORMC Arnold Palmer Children's Orlando in pediatrics as assistant nurse manager. And I worked for AT&T as a network systems developer.
Our final move was to Palo Alto, California where we both worked at Stanford University.  Shirl first worked at the Lucile Salter Packard Children's Hospital.  She later took a position as a research nurse at the Stanford University Research Center.  I was the manager of computer services at the School of Medicine.   
After 10 years at Stanford, we both retired in 2007 at the ages of 69 and 71 and moved to Oviedo, Florida. Shirley passed away in November of 2011.
Want to Nominate Someone to be Profiled?
As part of this year's celebration of 100 years of educational excellence at Grosse Pointe Public Schools, we are partnering with the district to profile 100 alumni from our illustrious first century.  
Are you or someone you know interested in being profiled in a story that will be distributed district-wide across various social media and news platforms?
Start by nominating yourself or someone you know here.