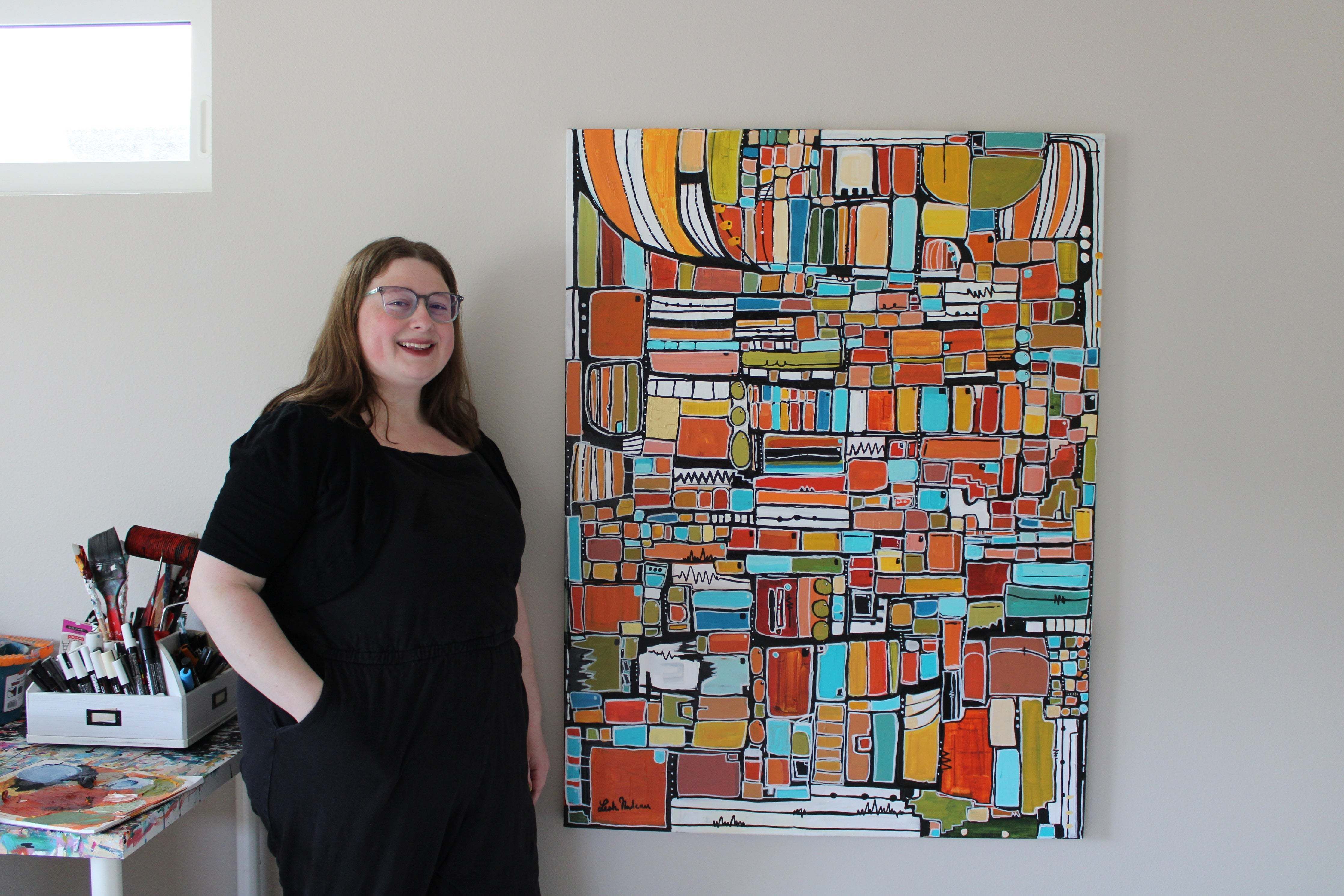 Leah Nadeau graduated from Grosse Pointe North in 2009 before going on to college in San Francisco for Media Studies. There she learned about film production, digital marketing, social media, journalism, and more. After graduation, Leah says she didn't exactly have a plan for her future, so she went to work at the Grosse Pointe Hunt Club (now Grosse Pointe Equestrian) for a year. Leah then applied for graduate school in 2014 and started the following fall.
When Leah was living in the United Kingdom in 2015, she picked up a paintbrush, setting her on an entirely new path. She was studying film theory, and her dissertation was stressing her out – she knew she needed a new creative outlet. Since then, Leah has never put that paintbrush down. She considers herself a self-taught painter, and she uses social media to sell her artwork directly to customers.
Growing up, Leah felt as though she had a purpose to fulfill someday, but I didn't know quite what it was. She remembers feeling lost, particularly in grad school when it seemed as if everyone else already knew their life plan. She shares, "I had no idea who I was or who I would be until I began painting. Finally, everything clicked. I've been working non-stop since 2015 to have a successful business, and now that I do, I wouldn't change it for the world."
Leah also recalls that things weren't always easy in high school. "I was bullied, and the trauma I had experienced in middle school had made me feel very untrusting of people. After transferring to Grosse Pointe North, I was very hesitant to make new friends and trust others, but people at North welcomed me with open arms. I felt like I belonged. It's never too late to find friends, even when it may feel scary. Just tell your story, and the people who listen and take the time to understand are your people." 
When asked which teachers impacted her, Leah shared that Mr. Brian McDonald and Mr. Kevin Cox at South both stand out in her mind now. "They were both my English teachers, which I really excelled at. They made my time learning extremely enjoyable. Both are so passionate about their jobs that it was contagious," she says. 
As far as advice for this year's graduating class, Leah offers this advice: "Enjoy your time as a kid. Being an adult isn't always easy. I wanted to grow up when I was a kid and see the world. Looking back, I should have cherished my childhood more."
To see more of Leah's artwork visit her facebook page and check out the Target website - her prints are now available online!
Want to Nominate Someone to be Profiled?
As part of this year's celebration of 100 years of educational excellence at Grosse Pointe Public Schools, we are partnering with the district to profile 100 alumni from our illustrious first century.  
Are you or someone you know interested in being profiled in a story that will be distributed district-wide across various social media and news platforms?
Start by nominating yourself or someone you know here.