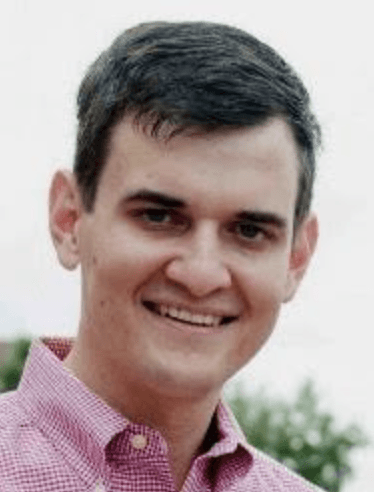 After graduating from Michigan State, the first job Grosse Pointe North graduate Eric Morath held was at a business magazine in Novi. From there Eric moved to Detroit News, where he covered the auto industry. "I loved traveling to auto shows and test driving new vehicles--I may have broken the speed limit on I-696 with a newly released Dodge Challenger SRT8," Eric says. 
In 2008, he and his wife Amy decided to pursue new career opportunities in Washington. Eric landed a job with Dow Jones and was later promoted to economics reporter at The Wall Street Journal. That role allowed him to travel with the labor secretary, interview Ivanka Trump in the White House. and spend two months in Germany writing about the labor market and work-life. Eric was honored with a Gerald Loeb Award for reporting on Amazon's headquarters search.
In 2021, he was promoted to the Economic Policy News Editor role at The Wall Street Journal, in the Washington, D.C., bureau. He now oversees a team of reporters covering the Treasury Department, IRS, SEC, and other agencies. 
Eric lives in Silver Spring, Md., with Amy and their three amazing children, Eleanor, 10, and Matthew and Libby, 7-year-old twins. Eric coaches their soccer teams in his spare time, and they all enjoy taking hikes in the Shenandoah Valley and visiting the Atlantic Ocean in the summer. 
The GPPSS Difference
Grosse Pointe North's student newspaper, The North Pointe, was the first publication for which Eric wrote. Working for the student newspaper taught him "the value of communication and the importance of media in a community." 
Eric also learned there's no substitute for hard work and putting in your best effort. "In 6th grade, at Parcells Middle School, I skipped doing my math homework a few days in a row. Teacher Mike Manzella sent me out of his classroom to the counselor's office to have me enroll in a different math class. A few minutes later, Mr. Manzella came down to collect me. He assured me I had the ability to be a good student, but I had to put in the work to achieve my best. That moment and feeling have stuck with me to this day," he shares. 
There are several other teachers that Eric also recalls as having a positive impact on him. One example is Mrs. Sherry Trickey, a 4th-grade teacher at Ferry Elementary School - Eric credits her for teaching him to love learning. Another is Crosby Washburne, a teacher at Grosse Pointe North, for teaching him how to write and communicate. 
Eric says he was also lucky enough to meet his future wife in their ninth-grade civics class. "Amy has been my biggest inspiration, supporter, and cheerleader that pushed me to take risks, explore the world and enjoy life," Eric shares. 
When asked what advice he has for this year's graduating class, Eric answered, "Ask lots of questions and be curious about everything. Never miss an opportunity to learn."
Want to Nominate Someone to be Profiled?
As part of this year's celebration of 100 years of educational excellence at Grosse Pointe Public Schools, we are partnering with the district to profile 100 alumni from our illustrious first century.  
Are you or someone you know interested in being profiled in a story that will be distributed district-wide across various social media and news platforms?
Start by nominating yourself or someone you know here.