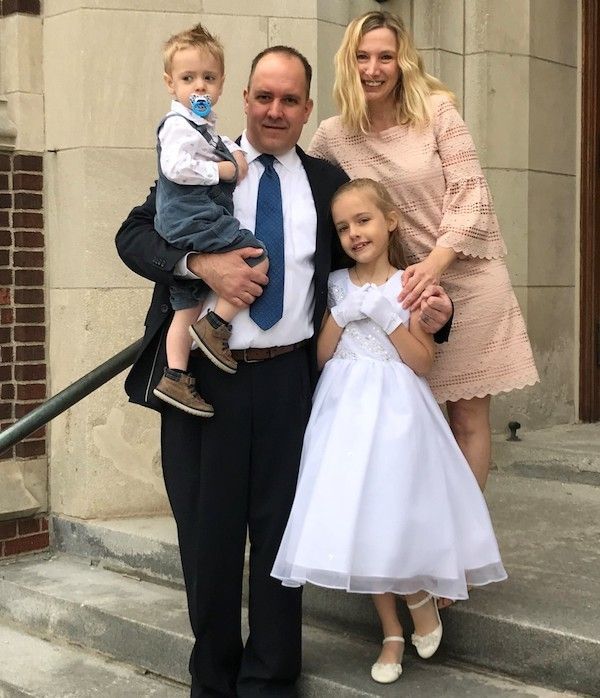 If you've enjoyed reading our Alumni, Volunteer and Student Spotlights, you've likely been reading the work of Grosse Pointe marketing consultant and writer Andrea Daniell, a volunteer who has been with us for months now, meeting members of our community and telling their stories on our website and in our newsletter. We thought it only fitting to turn the spotlight back on her! And she agreed to be the latest feature on the wonderful volunteers who step forward to assist us in our mission!
Here is this month's Volunteer Spotlight, a Q&A with Andrea Daniell:
Q: What is your connection to GPPSS?
A: My husband, Mike Daniell (North class of 1990), and I have two children in the school system. Our daughter Abbey is a 6th grader at Pierce, and our son Brooks is starting at Defer this September as a kindergartner. 
Q: What are your favorite memories from GPPSS?
A: All of my GPPSS experiences have been through the eyes of my children and my volunteer work. I'd say my favorite memory so far was Abbey's kindergarten year at Trombly, when I would take Brooks with me to volunteer at lunchtime. From there, we moved on to clinic duty, and then when he was old enough to run with the big kids - playground duty. Both Abbey and Brooks grew up in the halls of Trombly, so for that (and many other reasons), Trombly will always hold a special place in my heart. 
Q: Who have been your favorite teachers?
A: Every teacher Abbey has had has been a favorite. From singing with Mr. Eszes to learning to grow plants and run a business with Mrs. Golus - each year has been an adventure like no other. 
Q: Tell us a little bit about your daily life.
A: I'm a Senior Copywriter, and I work virtually for a marketing agency in San Diego, CA. I love what I do - I get to write about everything from making wine to using botox to the latest news on DEI (Diversity, Equity, and Inclusion). Every day is something new. I also volunteer on the marketing committee for the DIC (Detroit Institute for Children), a non-profit with almost 100 years of dedicated service to children with special needs and their families.
Q: What have been your most meaningful work and/or volunteer experiences?
A: My experiences with the DIC have been incredibly enriching. I loved being involved with the PTO at Trombly. And the other project near and dear to my heart is working with the Grosse Pointe Mompreneurs, a group I co-founded in 2013 to support other women in their entrepreneurial endeavors. 
Q: Please share with us a piece of wisdom you carry with you that you would like to share with this year's graduating class.
A: Nothing lasts forever. Whether it's good times or hard times, change is constant. Learning to adapt and roll with the punches has been my greatest gift, and I think the class of '21 is well poised to showcase their resiliency after this past year. You are all rockstars.
Q: Why did you join our efforts to support GPPSS?
A: After several years of turmoil in the community and our district, I saw the Grosse Pointe Alumni & Friends organization as a bright light ready to guide us into the next steps. I have a deep desire to see this district remain as strong as it's always been, and I'm so happy to help, even in my small way. 
WANT TO JOIN US AS A VOLUNTEER? CLICK HERE!