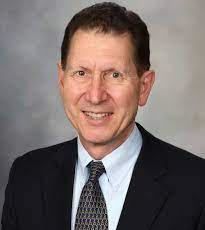 For our newest Alumni Spotlight, we spoke to Dr. Robert Friedhoff, who was in the second class to graduate from Grosse Pointe North after the Grosse Pointe High School split in 1968 to become Grosse Pointe South and the new Grosse Pointe North. Before attending North, Dr. Friedhoff attended Ferry Elementary School and Parcells Middle. 
Some of the teachers who had a positive influence on Dr. Friedhoff go back to his elementary days. He recalls Miss Rehill in kindergarten, Miss Ambrose in 1st/2nd grade, and Mr. Kurtell in 5th/6th and Mr. Cooper. During his time at Parcells, he points to Mr. McNew, Minor, Sumula, Harris and Miss Stuart as all being instrumental in his success and from North; Mr. Ritter, Fenech, Schneider, Morehead, Gray and Herold.
His favorite subject was always math, and he knew later in high school that he wanted to be a doctor. High school wasn't only about academics for Dr. Friedhoff, though. He was also the team manager for three sports—football, baseball, and basketball and was active in the band.
After high school, Dr. Friedhoff attended Western Michigan University, later Emory University and then Wayne State School of Medicine. He completed his internship at St. John Hospital in Detroit, his residency in anesthesia at the Mayo Clinic and Pediatric fellowship at Children's National Medical Center.
Dr. Friedhoff holds positions both as an anesthesiologist and Assistant Professor of Anesthesiology at the esteemed Mayo Clinic. The most rewarding part of his career, he says, is working with children. "Pediatric patients are the most vulnerable, and it's gratifying to be able to help," he tells us. He also has participated in medical missions in Asia, South America and Africa.
When asked what he believes makes Grosse Pointe Public Schools so special, he cites the expectation of the faculty to complete advanced degrees and the community's support of the students. From the Little Leagues to Scouting, the individual GP parks and recreation, the Arts and community churches. They all lend a hand in the wonderful way students are brought up in our district. 
Do you know an outstanding alumnus who should be profiled? Let us know!