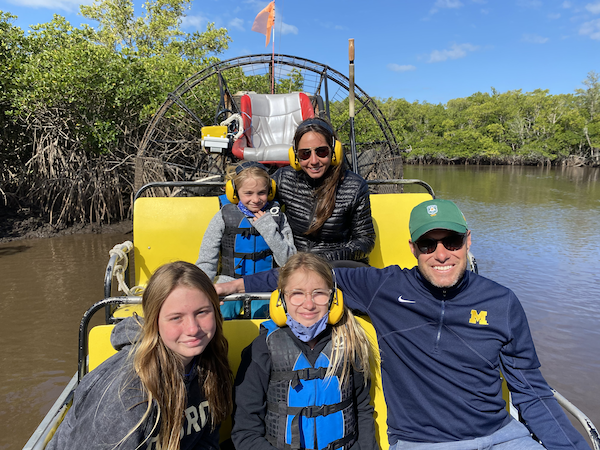 While Gina and I serve on the Grosse Pointe Alumni & Friends board together, we're only beginning to learn about each other; much of what you read below will be just as much news to me. 
Not all of it will be news though. One thing I've learned in my brief time working with Gina is she is a mission-driven individual. From her work at Thrive, to her founding of Grosse Pointe Alumni & Friends, to her appointment to the Michigan Education Foundation board, the writing is on the wall: Gina likes to give; be it her time, her heart, her creativity and so forth. 
And that shouldn't be news to anyone following this read. Let's celebrate the curiosity, tenacity, and selflessness that comes with such drive. Onward...
KS: Who is Gina? 
GG: I have spent my entire adult life working to improve the education of children around the world—directly and indirectly. With an MA in Special Education from Michigan State and BA in Elementary Education from John Carroll University, I have taught children in both the public and private sectors, both general and special education. I co-founded and am current President of Thrive, a charity that provides daily, healthy meals to schoolchildren living in makeshift dwellings around the world.  Throughout my childhood, I was a Ferry Falcon, Parcells Panther, and Norse(wo)man.  I currently live in Grosse Pointe Farms with my husband, Louie, and three daughters, Lucy, Alice, and Etta, all of whom are thriving in the Grosse Pointe Public School System.
KS: What's Your Why?
GG: At the beginning of 2019, when school budget concerns were at the forefront of community discussion, Katie Horst, Irena Politano, Mandy Koop, and I started to do some research on the funding sources fueling our public schools.  How were schools funded?  How much money was coming into the schools from the state, federal funds, and private fundraising efforts?
We learned that state and federal funding was unpredictable from year to year and also something we really couldn't immediately make an impact.  So we then explored private fundraising efforts in communities across the state.  We met with other school foundations, participated in the Michigan Education Foundation meetings, basically talked to everyone who was willing to help us gather information.
We found school districts around the state with significant endowments that had a team dedicated to driving their growth. For example, East Grand Rapids, a school district that at the time had half the amount of students as GPPSS, was poised to have a $12 million endowment, which would spin off roughly $600,000 per year in perpetuity.  
We wanted what they had.  We actually wanted something bigger than that for our community, and we thought if East Grand Rapids could do it, we could, too!
We thought our community could and would do better if given the right opportunity.  We wanted to create an organization with an endowment that would make the impact that has proven successful in other districts.
In our fact-finding, we also learned that GPPSS could benefit from a coordinated district-wide effort connecting our Alumni back to our schools.  Our community was primed for something like this. 
We had this "a-ha" moment - Let's create an Alumni & Friends Association with a purpose -- to unite alumni and friends to help fund our public schools in perpetuity by means of the appropriately named, Generations Endowment.
KS: What is the Michigan Education Foundation & who does it serve?
GG: The Michigan Education Foundation (MEF) is a 501(c)(3) nonprofit organization built by and for people passionate about quality public K-12 education in Michigan. Its mission is to be a catalyst for the creation and growth of local education foundations in communities across our state.  They currently have more than 50 member organizations across the state.
KS: How did you become involved with MEF? 
GG: Amy Stuursma, CEO of East Grand Rapids Schools Foundation and the President of Michigan Education Foundation, introduced us to the organization after we had called to get her advice on how to start and grow an endowment here.  The first MEF meeting we attended was on endowments.  That next week, we hired her to be our consultant in the process of becoming what we are now and what we hope to be in the future.  We continue to attend MEF meetings and have learned an incredible amount of information on school funding.
KS: What is something people don't know about you? 
GG: About 4 years ago, I trained for and completed a Half Iron(wo)man (1.2 mile swim, 56 mile bike, and 13 mile run)  indoors, by myself, at The Neighborhood Club. Haven't done another race since.
KS: Favorite Quote? 
GG: I love little mantras that remind me to be present and how important it is to be comfortable with being uncomfortable. The only quote I have printed on anything I own is "Life begins at the end of your comfort zone." - Neale Donald Walsch.  I like that one. 
KS: What's your Call to Action for others? 
GG: Join us!
KS: Michigan Education Foundation and Grosse Pointe Alumni & Friends Association are lucky to have such a determined individual making a difference at home and abroad. 
To join Gina and the rest of the team at Grosse Pointe Alumni & Friends, browse our website and get in touch! We'd love to hear from you.